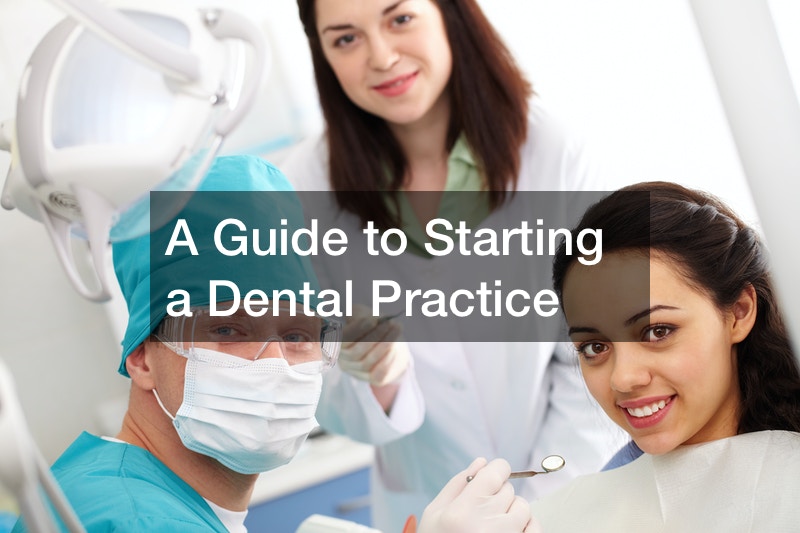 A Guide to Starting a Dental Practice

There are a lot of reasons why people aspire to become dentists. Generally speaking, dentistry is a lucrative field. People will always need dentists, and it's generally recommended that individuals visit the dentist at least twice a year throughout their lifetimes. Then of course there is the sub-field of cosmetic dentistry, in which elective procedures are executed, generally because individuals want to change the appearance of their teeth. Some dentists work more with adults, or provide solutions for those struggling with the dental issues that can come up with geriatric health issues. Others prefer to work with children; some additionally may choose to become orthodontists in the long term. No matter what, most dental procedures are covered by dental insurance, which makes this career very lucrative. Additionally, dentists can generally rely on fairly regular schedules, unless they specialize in emergency dental care. Furthermore, dentists are able to benefit from the fact that they're doing something genuinely meaningful with their lives. But with that being said, there is a difference between taking a job at an existing dental practice and starting a new dental practice.
Starting a new dental practice is in many ways a lot like starting any other kind of business. There is a lot of responsibility that comes with starting a dental practice, but a lot of benefits as well, both personal and financial. However, as with any new business, it requires a good deal of effort before you'll see those personal and financial payoffs. Furthermore, there are inherent risks that come with starting any new business, and certainly with starting your own dental office. Even if you are the only dentist at your practice at first, you'll still need to take on employees, meaning that you'll be responsible, at least in part, for their careers as well. With that in mind, the more you know about this process, the better. So why not take the time to look through a guide to starting a new dental practice? You could be the best dentist in your area, but there is a difference between being a great dentist and owning a great dental practice.
Start Planning Early
The initial stages of starting a new dental practice are some of the most important. Essentially, you're in the planning process of starting your dental practice. You need to think about exactly what is drawing you towards creating your own dental practice. What kind of practice do you want it to be? Most likely, your dental practice will, at least at first, focus on the area of dentistry that you specialize in. From there, you should begin writing out your business plan. Your business plan will address your goals as a dental practice owner, describing what you want your business to be and defining your customer base. It will also be the beginning of you addressing financial issues. When starting a new dental practice, the financial issues will be some of the most important ones that you need to keep in mind.
Once you feel like you've defined your business plan well enough, you need to start honing in on that financial aspect more. This will involve you creating a financial plan. The amount of seed money that you'll need while you're starting a new dental practice will depend on a few different factors. These will include the type of dental practice you want to start. For example, if your goal is to offer general dentistry services, you may not necessarily need to invest as much as you would if you wanted to start a cosmetic dentistry practice that offers more complex procedures. You need to understand exactly what your overhead will be as you start your new dental practice. What will be the most expensive item at first? Most of the time, it's going to be payroll. This is why it's smarter for you to start out with a smaller amount of employees.
Generally speaking, you'll be the primary dentist that people turn to as you're starting a new dental practice. You may or may not want to employ other dentists, but keep in mind that in the beginning, you will probably have a more manageable amount of clients. It may be wiser to start small, without as many people employed at your dental clinic. This will also make it easier for branding purposes. People like the idea that they have a personal relationship with their dentist. They don't want to be shuffled between multiple different dentists, and when you're starting out and initially trying to gain the trust of all of your potential clients, you really need to think about creating that connection with clients. The more you're dealing with people one on one, the easier it will be for people to connect with you.
But nonetheless, that doesn't mean that you can deal with all of the issues that come with starting a new dental practice on your own. You do need to have other employees helping you out. For example, it's crucial to have office staff that can handle scheduling, payment processing, and generally interacting with patients. Additionally, you should think about the assistants that you'll need to help you perform dental work. Now, the amount and types of assistants you'll need will depend on the types of dental treatments you're performing. But you do need to be competitive, recruiting the best possible employees in order to ensure that your business runs smoothly and people are satisfied with their experiences at patients.
You'll also need to consider the other costs that figure into overhead when starting a new dental practice. For example, you may want to start evaluating your options in terms of dental equipment financing. Dental equipment is expensive, and you may not be able to afford all of the necessary equipment outright as soon as your business starts. But if you're approved for financing, you can order and use equipment while paying it off over time. Basic utilities like electricity and water need to be taken into consideration. But so too do phone services and internet. While you can only do so much to cut down on basic utility costs, you'll have more control over your internet and phone service plans. Perhaps you need to think about starting out with a simpler, more basic plan on that front. These tactics can help you conserve in some ways, which will be particularly helpful in those first few months or even years. In the future, you can potentially pay for higher speed internet or more advanced phone systems. But for now, as is the case with much of everything else you'll need to consider when running a small business, you need to start small.
Look for Insurance Plans
When starting a new dental practice, finding the right insurance policies will be key to your success and your ability to thrive as a business owner. Generally speaking, when a person chooses to start or buy a business, they need to start looking into liability insurance. Every business requires this type of insurance. However, there are more unique types of insurance required of dental practices. This is because, as with any medical practice, there is more of a risk inherently in treating patients. Patients could potentially have unexpected reactions to anesthesia, or their teeth could fail to align correctly as they're wearing braces. Therefore, the liability insurance associated with a dental practice needs to specifically be made for dental practices.
With that being said, when you own a dental practice you may also be responsible for your employees' healthcare coverage. Yours will be one thing, and you need to make sure that you're paying for your own insurance in a timely manner. But typically, in order to be competitive many full time jobs need to come with benefits in the United States. It's simply something that potential employees will expect, and you may miss out on the best possible employees if you don't offer benefits.
Choose a Location
Once you have a business plan in place and are courting different insurance policies, you need to start thinking about the location for your practice. Location matters in a big way when you're starting a new dental practice. It will determine the types of clientele that you reach, as well as the general appeal of your practice. Some new dental practice owners are lucky enough to find existing offices for sale. While some of these will be general office spaces, others may in fact be existing dental offices. There are pros and cons to buying an existing dental office. If the office had a great reputation, you may be able to piggyback off of it; but if it didn't, you may not want to buy that particular office space. Some people may also be overly attached to their old dentists and could compare you unfavorably to them. Therefore, when you choose an office, you may be better office choosing a space that doesn't come with any preconceived notions.
Depending on where you live, you'll probably be better off if your dental practice is located in an area that's easy to find, but isn't in a location that's too crowded. Most people are not just going to stumble upon your practice and wander in for a spur-of-the-moment dental appointment. But you will want your office to be easily visible and inviting. Price will of course figure into your decision. Don't invest in an office space that's out of your price range just because it seems too good to be true. You need to make sure that your office space is both functional and appealing, yes. But you can always renovate an office space later when you have your budget under control, whereas it can be much more difficult to recoup that money if you spend it before starting a new dental practice outright.
Get Advice from a Mentor
If you can, try to find a mentor in the specific subfield of dentistry that you want to specialize in. The great thing about having a mentor is that they can let you know what to do, yes; but they also can let you know what not to do, and share connections that can make a big difference in terms of your business. For example, you'll want to make sure that you at least know how to get in touch with good lawyers for healthcare specialties. Ideally, there won't be an occasion upon which you'll need to get in touch with your lawyers. But just in case, you may want to get in touch with those that your mentor recommends.
Another major benefit of having a mentor is that you can connect with different dental associations through them. This will allow you access to discounted products, as well as marketing resources. Marketing is a major consideration to make when starting a new dental practice. It can be incredibly difficult to market a dental practice at first. But through your mentor, you can gain access to marketing resources like pamphlets, websites, and much more. Keep in mind that as you begin marketing your dental practice, you'll probably need to devote roughly 5% of your profits to marketing in the first few years. While this might seem like a lot at first, in the long term it will pay off.
You may not want to keep your dental practice in your own hands for the long term. Some dentists choose to eventually sell their practices after a dental practice appraisal is done. But alternately, as your business grows, you may choose to work with different partners in order to take some of the financial burden off of you. No matter what you decide to do, what is perhaps most important is starting your practice off right.