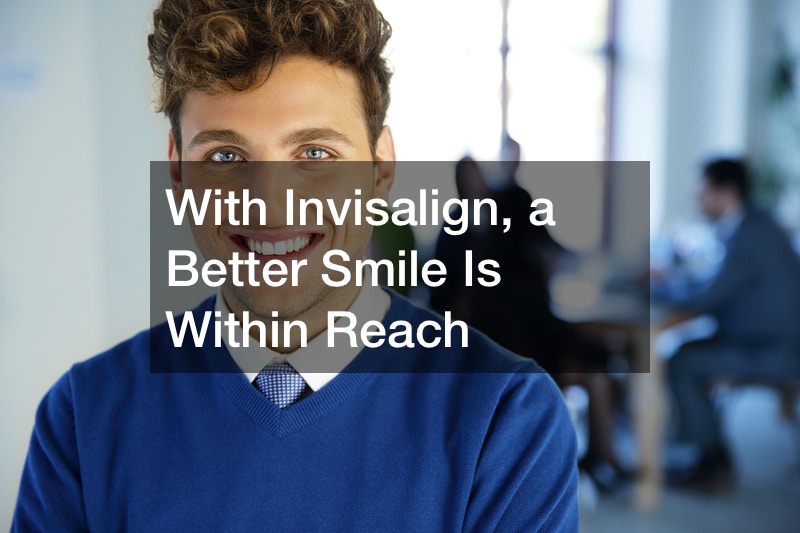 With Invisalign, a Better Smile Is Within Reach

Invisalign, or invisible braces, is a type of treatment that orthodontists use to align crooked teeth and resolve bite issues. The orthodontist will examine your teeth and jaws and take photos and x-rays. Orthodontists treat overbites, underbites, crooked teeth, crowded teeth, and other issues. Depending on the type of issue, they will discuss the best type of treatment for you.
Clear image aligners are a popular option for most adults and teens. They are aesthetically pleasing and less painful compared to invasive braces.
It is important to know the pros and cons of clear aligners. The main benefit of Invisalign is that they are nearly invisible. They are more comfortable and better for your oral hygiene since you remove them for meals. There are also less frequent visits to your orthodontist. However, with Invisalign, you must wear them for up to 22 hours a day. It is easy to forget to put them back on after a meal. They may be more costly than metal braces.
If you need treatment, discuss with your orthodontist the best type of treatment as well as the aligner pros and cons in detail. Invisalign is a great option to get a perfect smile.
Braces are a great way to straighten misaligned teeth and are sometimes the best option for correcting complex orthodontic problems. But given a chance, most people want a less noticeable treatment to straighten their smiles hence why clear aligners have become so popular.
One of the best clear braces is Invisalign, the tech used in these affordable clear braces was intended to combine the benefits of metal braces with discretion. Therefore, if you want a straighter smile without wearing metal braces, Invisalign might be what you're looking for.

The Invisalign system utilizes bespoke clear plastic mouthpieces known as aligners to shape dental formulas. The plastic used in advanced Invisalign is rated as BPA-free thermoplastic capable of being used to construct close-fitting teeth molds.
Next, a series of additional aligners are designed to shift the teeth in the desired direction, creating a beautiful smile. Each additional aligner moves your teeth closer to the expected results. Invisalign has been tried and tested; according to the official Invisalign website, there are about 12 million people in the US with Invisalign clear aligners. That said, if you want to learn more about Invisalign treatment, check out the review below.
When many people think about braces, they think about preteens and teenagers who want them. However, the truth is that many adults want braces as well. When adults get braces, they'd probably prefer to get Invisalign aligners. These are aligners that are not visible to people who are not looking closely. Unlike traditional braces, you can remove them when you need to and not have them alter your appearance significantly. However, a lot of people should keep in mind that these aligners are more expensive than traditional braces.
However, budget is definitely a consideration for most adults, which is why they might be looking for affordable invisible aligners. If you are interested in Invisalign aligners, you might have several questions. For example, is Invisalign expensive? Is Invisalign safe? Are invisible braces more expensive? If you speak to an orthodontist or even someone who works in an orthodontist's office, they might be able to answer these questions for you. They might also be able to schedule an appointment for you so that you can talk to an orthodontist and see if you are a good candidate for these invisible aligners yourself. If you are, you can start your journey to get your teeth straightened soon.
When there are problems with your smile, and you're an adult, you may not want to get braces. Getting braces for adults can be embarrassing, and in today's world, it is no longer necessary. Getting adult orthodontics services doesn't have to be an embarrassing prospect when there are other options available. Are invisalign braces worth it? For most users, they certainly are. They work well to straighten teeth, and they can cost a lot less than getting traditional braces.
If you have bad teeth, invisalign can help and in less time than it would take to have braces. The best clear braces for adults are the invisalign trays that are used to straighten teeth. The best teeth aligners at home are ones that are highly effective and that don't call a lot of attention to themselves. The trays that invisalign uses serve to straighten the teeth slowly with new trays being needed every few weeks. It is generally less expensive to get invisalign, and it looks a lot better when you smile. Many adults are very interested in them for that reason. Once you have the trays made, it takes little time to get your teeth to move.
Have you ever practiced your smile in the mirror before a big job interview or important meeting? Most of us have. In fact, nearly 75% of Americans think that the quality of a smile can help or hurt career success. If you're like 1 in 5 Americans without a perfect bite, however, you might think it's too late for the kind of smile that leaves a lasting first impression.
When many adults think of braces, they think of middle school, of food getting stuck in the brackets, of a smile full of metal. In the adult world, braces don't always seem to fit. They're a time-consuming process, often painful, and sometimes an eyesore. But orthodontics aren't just for preteens – in 2014, adult orthodontics patients totaled nearly 1.5 million. It's clear that adults need orthodontic care too, but braces are not always a feasible option.

Invisalign might be the solution for orthodontics for adults. Invisalign presents an option to those who cannot or do not want to go the traditional route with braces. Patients have clear aligners custom fitted to their teeth, specifically designed to move teeth to their optimal positions. The aligners are switched out typically every week under a treatment plan devised by the patient's dentist or orthodontist.
Why choose Invisalign?
It's fast. A typical course of treatment takes just one year and can be up to 50%
faster than traditional braces.
It's comfortable. Invisalign aligners are removable, taking the stress of food restrictions out of the picture. Invisalign is made from pliable, durable material that doesn't pose the same risks that traditional brackets do. It's safer for contact sports and more comfortable for everyday life.
It's practically invisible. Without traditional brackets, Invisalign keeps you looking professional in the workplace and the world.
It treats a number of different orthodontic problems, from crowding to gapped teeth to overbites.
People love it. In fact, 96% of patients report satisfaction with Invisalign.
Invisalign offers an alternative to traditional braces without sacrificing results. With its comfort, near-invisiblity, and short treatment time, it's a clear path to a better smile and greater confidence.