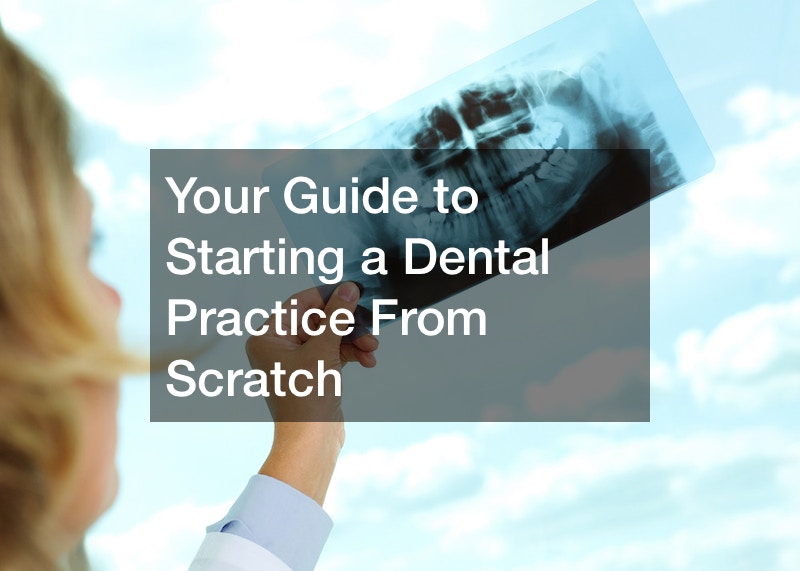 Your Guide to Starting a Dental Practice From Scratch

Starting a dental practice from scratch, although challenging, may be rewarding. It's crucial to meticulously prepare for every step of your exciting journey into the world of dentistry. This manual will help you through the essential steps of starting a dental practice from scratch, from developing a marketing strategy to ensuring your facility is secure and welcoming for staff and clients.
Create a Marketing Strategy
When starting a dental practice from scratch, developing a strong marketing strategy isn't just a luxury but a requirement. Your capacity to have a strong brand presence can make all the difference in wooing patients into the increasingly competitive healthcare market. According to Bright Local, 80% of people rely on internet ratings and information when selecting a healthcare practitioner. Here are some brand strategies to consider:
Create a Memorable Identity through Branding
The brand of your dental business is more than simply a logo; it's the core of who you are. It's what distinguishes you from other local practices. When starting a dental practice from scratch, take some time to develop a memorable logo and dependable branding components that represent the impression you want to make. Your brand should exude competence, reliability, and dedication to patient care.
Utilize the Internet's Power by Having an Online Presence
A strong online presence is essential in the current digital era. Make a good website that highlights your services and gives potential patients useful information. To interact with your audience on social media, keep your profiles active. Remember that your website often serves as the first point of contact with potential patients, so it should be aesthetically pleasing, simple to use, and mobile-friendly.
Be Visible in Your Community with Local SEO
Your internet approach must include local search engine optimization (SEO). Potential patients looking for dental services in your area can easily find you by increasing the visibility of your website on local search engines. This entails utilizing location-specific keywords, maintaining the accuracy of your Google My Business listing, and earning favorable online reviews.
Create Trust Through Patient Reviews
To gain the trust of potential clients, it is important to have positive patient reviews. Request positive reviews from your satisfied patients on sites like Google and Yelp. These evaluations attest to your knowledge and the caliber of your services. A positive review could be the difference between someone choosing your practice over a competitor's.
Have a Water Heater Installed
When starting a dental practice from scratch, you must have a dependable and effective industrial water heater as a foundational piece. Its importance can't be overestimated because it performs essential tasks like sterilizing instruments and maintaining patient comfort throughout procedures. In fact, studies have demonstrated that a steady supply of hot water boosts patient pleasure while also increasing the effectiveness of equipment sterilization, making for a more satisfying overall experience. It's crucial to consider numerous aspects when choosing a commercial water heater for your business, including capacity, energy efficiency, and maintenance needs.
When selecting a water heater for your dental business, capacity is an important factor to take into account. The ideal capacity will depend on the size of your office and the number of dental chairs you have. According to Science Direct, dental practices use an average of 57,000 gallons of water annually. As a result, if numerous chairs are in use at once, you'll need commercial water heaters with enough capacity to handle these needs.
Energy efficiency is still another important consideration. By choosing an energy-efficient industrial water heater, your practice lessens its environmental impact and saves money over time. Low heat loss is a feature of high-efficiency models, which increases their economic and environmental benefits. Purchasing an energy-efficient water heater shows your dedication to ethical practice management and aligns with the expanding trend toward sustainability in the healthcare sector.
Find a Customer Service Solution
A successful dental practice is built on top-notch client service. It's not just about giving excellent dental care; it's also about giving patients a pleasurable and seamless experience from the moment they walk into your office. In situations like these, outsourcing healthcare customer service can be really useful. In fact, according to the Qualtrics XM Institute, 90% of customers believe that a business will take care of their needs if they have had 'very good' service from them.
Furthermore, your clinic may save money by outsourcing customer service. The costs associated with managing an internal customer support team include salary, benefits, and training fees. You can access affordable solutions to meet your practice's unique demands when starting a dental practice from scratch by partnering with experts.
Healthcare customer service outsourcing can benefit your dental practice since these professionals are trained to handle patient inquiries, appointments, and insurance issues with skill and professionalism. They also have a thorough understanding of healthcare administration and are adept at navigating the frequently complex world of dental insurance. This streamlines your operational costs while guaranteeing that you will receive top-notch assistance from experts committed to offering top-notch patient support.
Remodel Your Bathroom
The restroom in your dental office occupies a special role as it frequently sets the tone for your patient's overall experience. It should exhibit the same degree of cleanliness, modernity, and comfort that your office strives to deliver since patients may spend some time there before or after their dental appointments. According to Facility Executive, the substantial association between hospital-acquired diseases and patients' perceptions of cleanliness lends credence to the notion that patients can evaluate cleanliness.
A wise investment in making a good impression on your patients is working with skilled bathroom remodeling companies. These experts are aware of the unique needs of healthcare institutions, such as durability and rigid sanitary regulations. To maintain a consistently hygienic atmosphere in your restroom, they can assist you in choosing fixtures, surfaces, and materials that match these standards and are also simple to clean and maintain.
A nicely renovated restroom can enhance patients' comfort and ease. Particularly for people who might be anxious about their dental visit, it helps to establish a friendly environment that reduces anxiety. The restroom's appearance and operation can significantly improve the overall patient experience, promoting customer happiness and loyalty. Working with bathroom renovation professionals when starting a dental practice from scratch will help ensure that this crucial area of your dental office supports your dedication to giving patients top-notch treatment.
Complete Safety Training
When starting a dental practice from scratch, place a high premium on ensuring the safety of both patients and employees. Ensuring all team members are Cardiopulmonary resuscitation (CPR) certified and knowledgeable in basic life support skills is critical to your dedication to safety. Effective bystander CPR can increase a person's probability of survival by double or triple, according to the Centers for Disease Control and Prevention. As a result, having a well-trained team can significantly impact how you handle emergencies in your business.
Consider offering training on first aid, emergency response procedures, and the use of automated external defibrillators (AEDs) in addition to CPR certification. A comprehensive safety training program gives your employees the tools they need to handle a variety of medical crises that could arise at the office, from allergic responses to wounds or illnesses.
Moreover, fire safety training is essential for dental practices. Staff members should know how to shut down equipment, where to find fire extinguishers, and how to use them properly in a fire emergency. Fire safety precautions can reduce hazards, safeguard the material assets of your practice, and, most importantly, ensure everyone's safety.
Get an HVAC System Installed
A key factor in having a great experience for patients and employees is the comfort of the environment in your dental office. The choice of an HVAC system and the business that installs it is crucial because comfort goes beyond the immediate surroundings to include temperature and air quality. When healthcare facilities are comfortable, especially the indoor environment, patients are likelier to review them positively.
As a result, purchasing a dependable HVAC system is essential for your practice rather than just a luxury. Working with an AC and heating company ensures the HVAC system is installed to meet your unique demands. HVAC systems may filter out toxins and allergens, preserving the cleanliness and wellness of the air inside your office.
Additionally, a well-functioning HVAC system helps reduce energy use and costs. Modern industrial HVAC companies built energy-efficient systems, which eventually help you save money on operating expenses. When starting a dental practice from scratch, you can establish a continuously comfortable environment without worrying about system faults or inefficiencies by performing proper maintenance and routine servicing on these systems.
Install Dry Wall
A well-kept and aesthetically beautiful interior is essential for your dental clinic to feel welcoming and professional. Investing in skilled drywall installation is an essential part of interior finishing. Patients' opinions of the quality of the treatment they receive are highly influenced by their immediate surroundings. A well-kept interior, including dry wall installation, can enhance the patient experience.
Professional drywall installation guarantees a smooth and immaculate finish, giving your office a polished and welcoming image. Surface imperfections or inconsistencies can distract and negatively impact how clean and professional something seems. Hiring drywall installation specialists may give you a high-quality finish that complements the image and reputation you want to project to your patients.
Sound insulation benefits from properly built drywall go beyond aesthetics. Noise from dental procedures may interfere with the patient's experience and heighten anxiety. The correct insulation materials used in well-built drywall can reduce sound transmission, resulting in a quieter, more serene environment. When the dental office is set up to reduce interruptions, patients are more likely to feel at ease and comfortable throughout their appointments, thus increasing their level of satisfaction.
Inspect the Roof
Your dental office's roof is its first defense against the weather, so routine inspections and upkeep are crucial. Neglecting roof upkeep might result in expensive repairs and disruptions to your business. According to a National Roofing Contractors Association report, roof neglect is the main factor in accelerated roof failure. Consequently, properly maintained roofs are essential for shielding your office from leaks and other weather-related problems.
The condition of the gutters is one frequently disregarded part of roof care. Direct rainwater away from your building with gutters to avoid water damage and foundation erosion. Water can overflow from a clogged or damaged gutter and seep into the structure, destroying the ceilings, walls, and valuable equipment. Maintaining your gutters regularly can preserve their efficiency and help keep your roof in good condition.
It's critical to take care of roofing and gutter issues as soon as possible to avoid more expensive repairs later. Regular maintenance helps prevent the inconvenience and cost of significant repairs or replacements while extending your roofing system's lifespan. Regular inspections, ideally carried out by a licensed roofing expert, can spot problems early, enabling prompt repairs and averting any water damage, negatively affecting the dental practice's structural integrity and appearance.
Invest in New Flooring
Making the best flooring choice for your dental office requires taking into account durability, hygienic standards, and aesthetics. Consider investing in several types of flooring, such as hardwood flooring, laminate, vinyl, or tile. Each has a particular set of benefits. Regarding durability, these floorings are often an excellent choice due to their long-lasting nature and resistance to wear and tear.
Maintaining cleanliness and hygienic conditions across all the aforementioned flooring options is crucial in a dental clinic. Regardless of the type of flooring, consistent cleaning and disinfecting procedures are necessary to maintain a clean and hygienic environment for patients and employees. Particularly, tile flooring is well-liked for dental offices because of its resistance to wetness and simplicity of cleaning.
The final flooring decision should consider your clinic's unique requirements, financial constraints, and aesthetic preferences. It's important to weigh the benefits and drawbacks of each type of flooring, prioritizing aspects like toughness, upkeep requirements, moisture resistance, and aesthetic appeal. Your dental practice may create a hygienic, welcoming, and professional atmosphere that caters to the needs of both patients and staff by carefully choosing the appropriate flooring.
Although starting a dental practice from scratch is challenging, you can build a prosperous business with careful preparation and attention to detail. Every element of your business should demonstrate your dedication to giving your patients the best dental treatment possible, from branding and marketing to safety and comfort. You may create a dental office that stands out in your community by taking the actions listed here and making informed decisions. The ball is now on your court; give it the best shot.