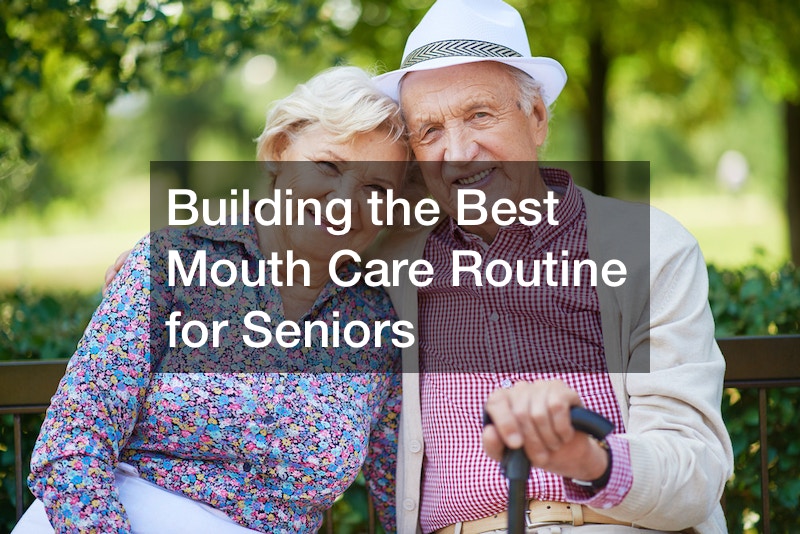 Building the Best Mouth Care Routine for Seniors

Did you know that your oral health is considered the window to your overall health? If you don't start coming up with the best mouth care routine for yourself, your oral health issues can start to impact the rest of your body. Since your mouth is the entryway to your gut, the bacteria that is in your mouth can affect your gut health if there's an imbalance.
There are certain factors that contribute towards this imbalance. But, the most common factor when you're older is your poor oral health due to the lack of the best mouth care routine. Read on to find out how older people can create a better mouth care routine.
Schedule Regular Dental Appointments
A regular dentist appointment is the best mouth care routine for anyone. A good rule of thumb to follow when it comes to mouth care is that if you're in doubt, see a dentist twice a year. However, it all boils down to your unique needs and circumstances.
Personalized care as an older person is a very critical consideration to make. In most cases, you hardly ever have someone who ensures that you maintain the best mouth care routine. It's also important for you to understand that when you care for yourself as an older person, you ought to ensure that you follow the most effective habits for your overall health.
It's also important to know the difference between an ordinary checkup and a required dental treatment. A checkup is what you do when all you need done is an examination and a cleaning. If your dental appointment shows that you require a treatment such as a root canal or implant dentistry, it will have to be done.
When you plan regular checkups, it helps to prevent your need for any dental treatments. In fact, everyone should go for a dental checkup as regularly as possible. The fact is that there are other dental issues outside oral health that your dentist might discover.
When you leave dental issues, they're likely to cause more problems in the long run. A concise knowledge of the most effective ways for you to improve your oral hygiene habits is important. Even though there are many factors that contribute to you having the best mouth care routine, regular dentist visits are a significant part of ensuring that your oral health remains optimal.
Factors that Determine How Often You Need to See a Dentist
The thing about oral health is that you never find a one-size-fits-all solution. There are a number of things that you should keep in mind. Factors such as the following can impact how often you should see your dentist.
If you drink or smoke, you might need to visit your dentist more often than someone who doesn't. Tobacco can affect the health of your gums and teeth. Moreover, its use is associated with many oral diseases.
If you're prone to more cavities due to your biological makeup, you need to be extra vigilant with your health. You might have a family history of oral diseases that requires you to visit your dentist more frequently.
You should know that a dental check-up isn't as painful as you think. In most cases, your dentist will likely examine your gums, mouth, and teeth. They'll also ask about your diet and lifestyle habits. It's always a good idea for you to be as honest as possible so that you can work together towards creating the best mouth care routine for you.
Plan a Diet for Good Oral Hygiene
Did you know that meal planning is part of the most effective ways for you to reach your oral hygiene goals? If you want to start having the best mouth care routine, you ought to take better care of the kinds of food that you eat. The fact of the matter is that your body is complex, and you should treat it as such.
Planning meals is easier if you have a carer who can understand your need for a change of diet, whether you're at home or in a senior living facility. There are many reasons why your diet and dental health have such a close relationship.
Not only do the types of food that you ingest affect your gut health, but the health of your gums and teeth are equally affected. So, if you've been having too many sweets, you might notice that your teeth start to decay at a rapid rate.
You need to understand that your wise eating choices will eventually ensure that you keep up with the best mouth care routine. The main tips that you should keep in mind to ensure that you keep a balance between your diet and oral health are as follows.
Eat a variety of healthy foods that belong to the main food groups.
Drink lots of water.
Reduce the number of sugary snacks that you eat.
Brush your teeth twice a day
Go for your regular dental checkups.
Create an Ideal Tooth-Brushing Environment
You'd be surprised to find that some people don't like to brush their teeth because they don't like the environment in their bathroom. If you've been feeling discouraged by your bathroom lately, maybe it's time to consider bathroom remodeling. It's essential for you to transform your bathroom space in such a way that it motivates you to brush your teeth more.
The last thing that you want is not achieving your best mouth care routine because of your bathroom. Think of the latest bathroom design trends that can inspire you to spend more time brushing your teeth, and try incorporating them in your bathroom to create a more pleasant environment.
Also consider the cleanliness and functionality of your bathroom. The truth is that if you have a clogged drain in your bathroom, you'll be less likely to want to use your sink. However, when you call plumbing services to fix your drain, it should make things much easier. Another thing that you should consider is adding high-tech faucets to make the process much simpler. The best part is that these features won't just give you more functions, but they offer you a more environmentally friendly solution to brushing your teeth.
Part of creating the ideal environment where you can enjoy brushing your teeth is acknowledging that the best mouth care routine is a holistic approach towards ensuring exceptional health overall. Don't limit your creative juices when doing your bathroom remodeling. Consider new lights, your space usage, and even wall accessories to create a new environment.
Establish a Healthy Mindset
When you establish a healthy mindset, it becomes much easier for you to establish the best mouth care routine. The fact is that being at your healthiest isn't only about how much you exercise and what you eat. Being healthy also involves maintaining a healthy mindset.
When you're older you'll understand that a healthy mindset is one of the most challenging aspects of your life to achieve. Even though it's not impossible, it requires you to do more than eat healthy and live a different lifestyle. A healthy mindset is a crucial way for you to reduce stress and anxiety in your life.
Research suggests that if you're stressed, you can negatively impact your oral health. To ensure that you achieve the best version of yourself, there are some things that you have to do first. These are the most effective tips for you to develop a healthy mindset.
1. Accept Yourself
This is likely the hardest thing that you'll ever learn to do. Yet, it's the most rewarding gift that you can ever give yourself. Working towards self-acceptance isn't easy when you've lived your life with shame.
Yet, when you start forgiving yourself and accepting that you're the best version of who you're meant to be, it makes the entire process much easier.
2. Focus on Things You Can Control
Let's face it, you can't control the fact that you need to get one of your teeth extracted. Even though you might struggle with the idea of having poor oral health, you need to own up to the actions that cause these consequences in your life. Once you understand what you can and can't control, it makes life easier for you.
3. Make Healthy Eating a Part of Your Life
When you watch what you eat, you suddenly start feeling better about yourself. If you haven't been eating healthy, you might want to ease into it so that you don't end up overwhelming yourself. Making better food choices translates into your oral health and enhances your goal towards your best mouth care routine.
Start looking up different diets that can match your unique needs. There are various types out there from intermittent fasting to bio hacking. Just remember that you need to be mindful of the information out there because some diets require you to be cautious.
4. Live in the Moment
When you're older, you start to think of how precious life is. You never want to take anything for granted. Most importantly, you shouldn't spend your time thinking of things that could've happened.
In fact, you should live in the moment and prioritize your happiness. When you're mindful of the present you don't miss out on anything. And, you start to make the best choices that benefit your overall health.
5. Maintain Balance
Have you ever realized how hard it is to find balance in life? Even when you try your best to keep up with your best mouth care routine, there's always something that happens that can throw you off. This is why it's crucial for you to maintain a balanced life.
When you have adequate balance in your life, you can achieve all the things that you plan to achieve. It makes it easier for you to focus on improving your habits and making better lifestyle choices.
Build Good Habits
Building good oral habits to achieve the best mouth care routine starts with following simple steps every day. The fact of the matter is that your oral hygiene will rely heavily on your habits. This includes what you eat, brushing your teeth, and your overall lifestyle.
While there are foods that you should avoid if you never want to end up using dentures in your old age, you need to know which foods you should eat to keep your teeth strong and healthy. The four types of foods that are good for your teeth include the following.
Foods rich in calcium, such as dairy products, eggs, spinach, and seafood, to help build strong teeth.
Foods that contain a sufficient amount of vitamins, such as kiwi and strawberries, to help prevent gum disease.
Foods such as fish and egg yolks for their vitamin D properties. Since vitamin D is essential for your body's overall functioning, you can also get it when you sit in the sun for at least 30 minutes.
Crunchy foods like apples that help to clean your mouth.
In summary, everyone needs to understand that the best mouth care routine involves building good habits. There are different things that play a role in ensuring that you care for your oral health as best you can. When you're older, you need to work extra hard to keep up with the demands of your oral health.
This includes making sure that you see your dentist for your checkups as often as you can. The type of food that you eat should also maintain a balance between your gut and mouth. When you don't have anyone to take care of you and remind you of the importance of taking care of your oral health, it can be a challenge to keep up.
This is why having this useful guide should serve as a helpful reminder for you to ensure that you keep up with your oral care routine. Using the tricks and tips mentioned will help you stay away from the battle of poor oral health.